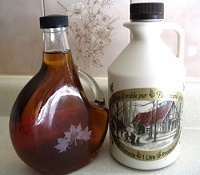 Looking for local maple syrup orchards and sugarworks in New Zealand? There are also listings for every other state, tours, festivals, syrup making demonstrations, history, facts, related events and fun!" Scroll down this page and you will see the aall of thoses in New Zealand, sorted by county. ALWAYS call before you go to confirm the info, they don't always report changes to me!
And if you know of one I missed and want to add it or correct the information, please let me know!
What's in season in October 2023, and other timely information:
October The new sapping season starts in late winter; typically from mid-March to mid-April in most maple-syrup producing areas, when temperatures are below freezing at night and above freezing during the day. Tours usually begin in early Spring! That's a great time to visit a maple sugar orchard or sugarworks and see a sugaring demonstration; watch them make maple syrup!
Where are Maple Syrup farms/orchards/sugarworks, etc.? Well, they're not in Hawaii or Florida, for sure. They are concentrated in the northeast and upper midwest in the US and the eastern half of Canada, even though maple trees do grow in the northwest.
Maple Syrup listings, by area
Click on Local resources above, if you need a county map
At present there are no commercial maple syrup farms, orchards or operations in New Zealand. However, maple sugar tree plantings and research are ongoing!
It turns out that sugar maple trees grow very well in New Zealand. A man in Nelson, Dave DeGray started planting sugar maple trees back in 1984 and he says now he is producing maple syrup aof a higher quality and quantity per tree than his counterparts in Canada. Apparently, the trees also grow much faster in NZ than Canada, too.
He has 225 sugar maple trees. There is an interesting story about Dave DeGray's New Zealand Sugar Maples here.
Matthew Watson, Associate Professor at University of Canterbury. says "The projections are that you can get 3500 litres of syrup per hectare and that equates at a wholesale price of $5 per litre of around $17,000 per hectare".
But so far, this is just in the testing phase, not yet commercial.
North Island
Auckland
Bay of Plenty (Kawerau, Opotiki, Rotorua, Western Bay of Plenty, Whakatane)
Waikato (Hamilton, Hauraki, Matamata-Piako, Otorohanga, southern Rotorua, South Waikato, Taupo, Thames-Coromandel, Waikato,Waipa, Waitomo)
Wellington (Carterton, Kapiti Coast, Lower Hutt, Masterton, Porirua, South Wairarapa, Upper Hutt)
South Island
Nelson
Marlborough
Otago (Central Otago, Clutha, Dunedin, Queenstown-Lakes, Waitaki(eastern half) )
Tasman
Nelson