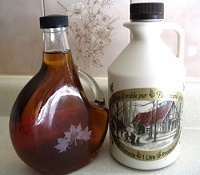 Maple Syrup Production Facts and Figures
Maple syrup production in the United States is mainly in the Northeast and the northern Midwest. In Canada is takes place in most of the provinces. The Canadian province of Quebec produces 90% of Canada's maple syrup and 70% of the entire world's production of maple syrup. Canada exported about $360 million (US) of maple syrup in 2016. Maple syrup can be made wherever suitable species of maple trees grow, such as New Zealand. One tap on one tree will produce approximately 10 gallons of sap (in a typical year, it does vary from year to year) which will boil down to make about one quart of maple syrup. Once a tree reaches a diameter of 12 inches or larger, one tap can be put in it. At 18 inches or greater in diameter, 2 taps in trees can be put in.
Most recent Maple syrup production figures for the United States
The United States produces a total of approximately 4 million gallons of maple syrup annually. The top states in the U.S. are their 2019 production figures are:
State and production in gallons
Vermont 2.07 million gallons
New York 820,000
Maine 580,000
Wisconsin 270,000
Michigan 195,000
Pennsylvania 157,000
New Hampshire 148,000
Contrast this with the 2010 numbers, roughly 10 years earlier:
State and production in gallons
Vermont 890,000 gallons
New York 312,000 gallons
Maine 310,000 gallons
Wisconsin 117,000 gallons
New Hampshire 87,000 gallons
Michigan 82, 000 gallons
Ohio 65,000 gallons
Pennsylvania 54,000 gallons
Massachusetts 29,000 gallons
Connecticut 9,000 gallons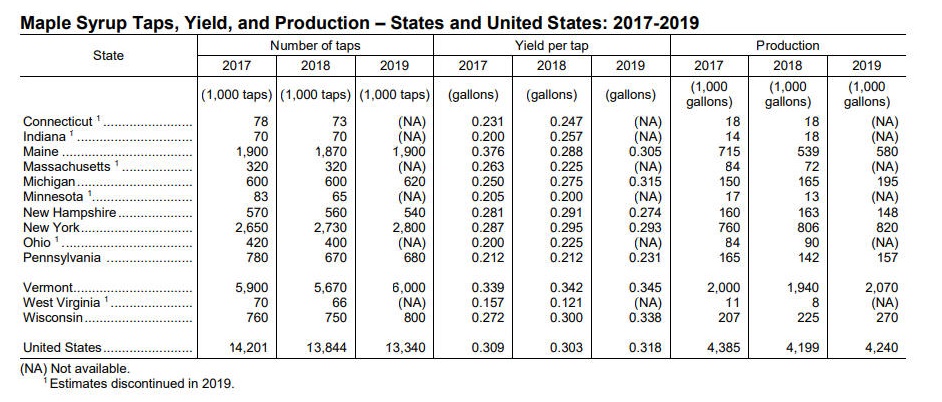 Maple Syrup Production on the West Coast of the United States
There is only one small commercial farm in Washington State and 3 hobbyist farms in Washington State, with a total of 36 taps. The University of Washington plans to install 700 experimental taps in Pack Forest in 2020.
There are no commercial maple syrup farms in California or Oregon.
Canadian Maple Syrup Production
As noted above it is concentrated in Quebec, but there are specialty producers in most provinces. There are three tribes: Hupacasath First Nation, Muh-uulth-aht, Klee khoot aht and Cuu-ma-as-aht that make commercial syrup together on Vancouver Island. There is also an annual bigleaf maple syrup festival on Vancouver Island, B.C.
Production of Maple Syrup outside of North America
There appears to be a start-up maple syrup farm in New Zealand.