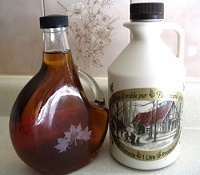 Maple Syrup Festivals
Maple Syrup Festivals
Not every area has a maple syrup festival. After all maple syrup is only produced in
Canada (70 percent of the world's maple syrup is produced in Quebec) and
United States - And here only in states that have cold winters, like Vermont (which is the largest American producer, about 6 percent of the world's supply) and New Hampshire, NY, Michigan, etc.
Maple syrup trees (Sugar Maples) need freeze-thaw cycles of freezing nights and warm days to produce heavy flows of sap.
That said, there are:
Maple syrup festivals in areas where maple syrup is produced (these are identified on each state's pages, since they are usually held on the farms)
Pancake festivals (in which maple syrup is, of course, a prominent participant) see the Easter Egg Hunt website for these, as they usually coincide with Easter activities. and
Maple sugaring festivals: tours and special days held at farms (sugarworks) where the sugar maple trees are grown and the syrup is produced.(See below; we will include these below as we find them)
But, quite a few states in the middle ground do, so take a look below!
For other fruit and vegetable festivals, see this page!
Alabama
Alaska
Arkansas
Arizona
California
Colorado
Connecticut
Florida
Georgia
Illinois
Indiana
Iowa
Kansas
Kentucky
Louisiana
Massachusetts
Maine
Michigan
Mississippi
Missouri
Montana
New Hampshire
New Jersey
New York
North Carolina
Ohio
Oklahoma
Oregon
Pennsylvania
Rhode Island
South Carolina
South Dakota
Tennessee
Texas
Utah
Vermont
Virginia
Highland County Maple Festival - usually mid-March
Take a step back in time to Highland County, "Virginia's Sweet Spot." Travel scenic back roads and majestic mountain byways to the annual Highland County Maple Festival. Since 1959, visitors have been drawn to Highland County to tour real maple sugar camps for a cultural and culinary adventure! In 1999, The Library of Congress designated The Highland County Maple Festival a "Local Legacy." In 2014, the Governor of Virginia signed a bill into law designating the festival as the "official maple festival of Virginia." Each year, tens of thousands of visitors are drawn to this unspoiled, rural region of Virginia to celebrate the "opening" of the trees and observe the process of maple syrup-making. Sugar camp tours provide a unique and educational experience that portrays a rapidly vanishing way of American life. In 2020, there will be a new sugar camp open, bringing the total to 9 open sugar camps with unique techniques and stories for you to explore. In addition to pancake dinners, doughnuts and entertainment, over 100 high-quality juried vendors take part in the festival each year. We're glad to have you share the experience!
Hours: Saturdays 9:00 am to 5:00 pm, Sundays 9:00 am to 4:00 pm for the majority of the festival, including the Arts & Crafts/Food Vendors. Get an early start, beginning at 7:00 am for all-you-can eat pancake and buckwheat meals at certain areas on Saturdays and Sundays, or stay later on Saturdays for a 7:00 pm show!
GPS Addresses: The festival is a COUNTY-WIDE event, with each rural town having something unique to explore. Two main areas of interest are Monterey at "165 W. Main Street, Monterey" OR McDowell as "Mansion House Road, McDowell". Held annually during the second and third weekends in March. For over 60 years, visitors have been drawn to Highland County to tour real maple sugar camps
Washington, D.C.
Washington State
West Virginia
Wisconsin
---
Alberta
British Columbia
Manitoba
Pembina Valley
Nova Scotia
Ontario
---
---