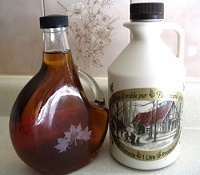 Maple Grilled Chicken
Maple Grilled Chicken
Click here for a PDF print version
Yield:
Maple syrup pairs so well with chicken and this juicy, spicy, sticky, barbecued chicken is reminiscent of grilled teriyaki chicken with a maple twist! and it is so fast and easy! Perfect for football game tailgate or backyard barbeque.
Ingredients
2 teaspoons minced garlic
2 teaspoons Asian Chile pepper sauce - a Sriracha sauce is ideal
3 tablespoons maple syrup
2 tablespoons soy sauce (I prefer the low sodium version)
2 tablespoons mayonnaise
3 tablespoons rice vinegar (balsamic will work)
1/2 teaspoon ground black pepper, or to taste
2 pounds skinless, boneless chicken thighs or bonesless skinless chicken breasts
2 teaspoons lime or lemon juiice
Directions
Step 1 - Make the sauce
Mix the chile pepper sauce, maple syrup, soy sauce, mayonnaise, and rice vinegar into garlic until marinade is thoroughly combined.
Step 2 - Marinate the chicken for 3 hours or more
Transfer chicken thighs or breasts to a large flat container (such as a baking dish) and pour marinade over chicken; stir until chicken is coated. Seal or cover the dish with a lid or plastic wrap and refrigerate about 3 hours
Step 3 - Preheat the grill
Preheat the grill to high heat.(400 - 450 F)
Step 4 - Grill the chicken
Put chicken onto the hot grill with smooth sides down. Cook until the chicken shows grill marks, about 3 minutes. Turn chicken over and cook until other side shows grill marks, about 5 minutes. Continue to cook, moving them occasionally and turning over every 2 minutes, until meat is no longer pink inside and the thighs are golden brown, 10 to 12 minutes. Using a meat thermometer, chicken should be 165 - 170 F
Step 5 - Let the cooked chicken rest and enjoy!
Transfer chicken to a platter, let rest for 5 minutes, and serve garnished with lime wedges.