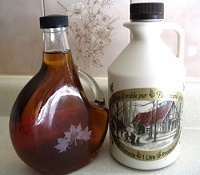 Maple-Apple Cobbler
Maple-Apple Cobbler
Click here for a PDF print version
Yield: 6 to 8 servings
Maples syrup gives the traditional apple cobbler super tasty!
Ingredients
2/3 cup maple syrup
1 1/2 teaspoons cornstarch
1 cup water
1 tablespoon butter
1 cup all-purpose flour
2 tablespoons sugar
1 1/2 teaspoons baking powder
3 tablespoons butter
1 1/2 cups chopped, peeled apples
1/3 cup milk
1/2 teaspoon vanilla
2 teaspoons sugar
1/4 teaspoon ground cinnamon
1 teaspoon butter
Directions
Start the oven heating to 350 F.
Step 1 - Mix maple syrup and heat
In a saucepan, combine the water, maple syrup, and cornstarch. Stir while heating until it reaches a firm boil. Then cook and stir for 2 minutes more, and remove from heat.
Step 2 - Add to baking pan
Add the 1 tablespoon butter. Pour into an 8x8x2-inch baking dish or baking pan (2-quart square).
Step 3 - Mix the other ingredients
In a medium mixing bowl, stir together the flour, the 2 tablespoons sugar, and the baking powder.
Cut in the 3 tablespoons butter until mixture resembles coarse crumbs.
Next, stir in the apples.
Finally, add the milk and vanilla; and stir just until batter is evenly moistened.
Step 4 - Spoon the batter into the baking pan
Using a tablespoon, drop the apple batter into the warm syrup mixture in the baking dish or baking pan. Combine the remaining 2 teaspoons sugar and the cinnamon. Sprinkle the cinnamon sugar over the batter in the baking dish. Dot the top with the remaining 1 teaspoon butter.
Step 5
Bake the dessert in a 350 degree F oven for 40 minutes.
Serve the maple dessert warm, topped with whipped cream. .