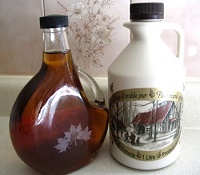 Maple-Walnut Apple Cobbler
Maple-Walnut Apple Cobbler
Click here for a PDF print version
Yield:
Maples syrup gives the traditional apple cobbler super tasty, and the walnuts (you can use pecans or other nuts instead) not only pair well, but give it a delightful crunch!
Ingredients
1 cup all-purpose flour
1 teaspoon baking powder
1/4 teaspoon salt (optional)
1/4 cup cold butter, cut into small pieces
2/3 cup walnuts, toasted and chopped
1/4 cup milk (nonfat, skim, or whatever type you prefer)
6 tablespoons pure maple syrup
2 tablespoons butter
1/3 cup packed brown sugar
5 apples (2 1/4 to 2 1/2 pounds total), peeled, cored, and cut into 3/4-inch pieces (about 5 cups worth)
1 tablespoon all-purpose flour
1 teaspoon ground cinnamon
Directions
Step 1 - Preheat oven to 375°
Preheat oven to 375°.
Step 2 - Mix dry ingredients
In a medium bowl, combine 1 cup flour, the baking powder, and salt.
Step 3 - work in the butter
Add 1/4 cup butter and toss to coat. Using a pastry blender or your fingertips, cut or rub the butter into the dry ingredients until mixture resembles coarse crumbs.
Step 4 - Add the maple syrup and walnuts
Stir in 1/3 cup of the walnuts. Add the milk and maple syrup. With a fork, mix together until a dough forms. Add a little more milk to moisten, if necessary.
Step 5 - Cook the apples in the iron skillet on the stove
In a 9- or 10-inch cast-iron,. other heavy oven-safe skillet , heat 2 tablespoons butter and the brown sugar over medium-high heat. Cook and stir until butter is melted and sugar begins to melt.
Note: if you do not have an iron skillet, you can cook in a pot on the stove, then transfer the cooked apples to an oven-safe 9' by 9" glass or metal oven pan.
Step 6 - Add the apples to the skillet
Add apples to skillet. Sprinkle with 1 tablespoon flour and the cinnamon. Cook and stir until apples are coated. Remove from heat. Stir in remaining 1/3 cup walnuts.
Step 7 - Add the dough (flour mixture from step 4)
Drop the dough mixture in large tablespoon-fuls to top of the apple mixture.
Step 8 - Bake
Bake for 30 to 35 minutes or until apples are tender (test with a fork or knife) and the dough topping is lightly browned. Serve still warm, with vanilla ice cream, if desired.